Wine Country – California Red and White Wine Tote
This gift is great choice for those who enjoy red or white wine. Little Lakes crisp chardonnay and fruity Rock Falls cabernet sauvignon arrive in a stylish tote along with a wine stopper and several sweet and savory Wine Country favorites. Gift Size: 10″ x 7″ x 14″ – Item 731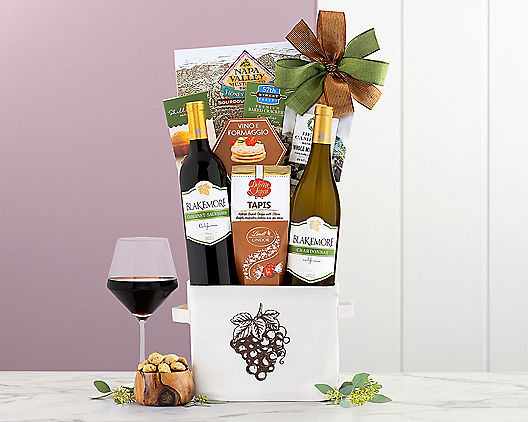 California Red and White Wine Tote
Buy This Item
Winecountrygiftbaskets.com
as of November 6, 2017 1:14 pm
This gift is great choice for those who enjoy red or white wine. Little Lakes crisp chardonnay and fruity Rock Falls cabernet sauvignon arrive in a stylish tote along with a wine stopper and several sweet and savory Wine Country favorites. Gift Size: 10" x 7" x 14" - Item 731
Related Products
Enjoy the luxury of a spa day right from home! Pop a bottle of exclusively imported French Champagne or pour a glass of ruby-red Merlot and treat ...
This duo makes a memorable, elegant gift that's sure to be appreciated. These Signature Chocolate Truffles are rich, smooth, and beautifully ...
This Wine Country Gift Box combines two highly-rated Cabernets with Santa Barbara's finest Chocolate Truffles.